Company History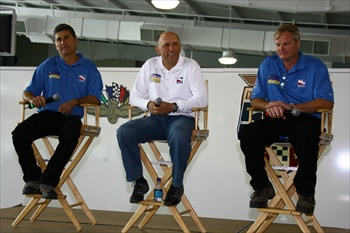 Founded in 2001, the Indy Racing Experience provides fans the ultimate opportunity of a lifetime by experiencing the high speeds of IndyCar racing with our driving and 2-seater programs. While casually talking one afternoon in a small garage on Gasoline Alley in Indianapolis, Scott Jasek, Joe Kennedy and Jeff Sinden imagined stretching out a regular IndyCar Series car to allow for a passenger to sit behind the driver and truly experience the speed and pressure that comes with IndyCar racing. Nearly a decade later, the Indy Racing Experience has evolved into a one-of-a-kind experience for race fans and car enthusiasts.
In addition to taking a ride in the 2-seater driven by an Indy Racing League driver around any of the tracks on the IndyCar Series schedule, fans also have the opportunity to drive these IndyCar machines, which competed in the Indianapolis 500. Thrill seekers have traveled the world to drive these cars at the historic Indianapolis Motor Speedway. In November 2008, the Indy Racing Experience expanded its operations to the Walt Disney World® Speedway near Orlando, Fla., and offers daily ride and drive opportunities at the former home of the IndyCar Series' season opener.
To date, the Indy Racing Experience has given more than 12,000 rides to celebrities, media, race fans and car enthusiasts over the past eight years. However, the history of the company and its owners extends back more than 20 years.
Jeff Sinden and Joe Kennedy started Sinden Racing Service in 1987 out of a small garage on Gasoline Alley. Simply known as "Jeff and Joe" in the racing industry, the pair met while working at Cotter Racing in the mid-1980s. Prior to that they worked individually with several different race teams and drivers. Throughout their early years of racing they experienced the ups and downs of the business with some of open-wheel racing's largest teams, such as Hemelgarn Racing, Galles Racing and Team Cotter.
Jeff and Joe continued to rise through the ranks while working with legendary drivers Al Unser, Johnny Rutherford, Tom Sneva and Gary Bettenhausen. While at Team Cotter, Jeff and Joe played an integral role in Roberto Guerrero's second, third, and fourth-place finishes in the Indianapolis 500.
Sinden Racing Service quickly became the one-stop shop for all things racing. Whether IndyCar Series teams needed car parts or pit equipment, either newly fabricated or repaired, SRS was the company to which every team knew to come.
In 2000, Jeff and Joe joined with Scott Jasek, a former executive with Budget Car and Truck Rental, to create the Indy Racing Experience and IndyCar show car program.
The three partners launched its third company, Indy Parts, in 2006. Indy Parts provides quality parts and service to teams in the IndyCar Series and Firestone Indy Light series, and is the sole North American distributor for Dallara – a worldwide chassis manufacturer for a number of premier motorsport series.
In the fall of 2008, Sinden Racing Service was formally re-branded Experiential Marketing Incorporated – a first-class marketing company dedicated to providing clients innovative marketing units designed to enhance brand identity. Through its show car program, interactive marketing trailers and simulators, as well as its quality custom fabrication shop, EMI has expanded its client base to include some of the top organizations affiliated with the IndyCar Series, NASCAR, NBA and NFL.