You Drive
Experience Driving an IndyCar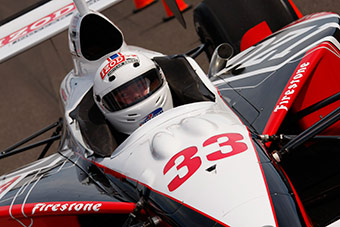 The Indy Racing Experience Driving Program gives each customer the chance to learn what it is like to drive a real IndyCar® Series car that has competed in the famed Indianapolis 500. They'll feel the rush of excitement as they follow a lead IndyCar® Series car around the track. Speeds are dependent upon each customer's comfort level in the car.
Currently, the Driving Program is only offered at the Indianapolis Motor Speedway. At Indianapolis, thrill seekers take to the historic 2.5-mile Brickyard for 3 laps.
Restrictions: Each driver participant must be 18 years of age or older, under 6'5" in height, and under 250 lbs. No prior experience is needed, and an orientation will be completed before the Drive Program to make sure customer is comfortable inside the car and prepared in all safety aspects!
Drive Rates
| Track | Length | Price | |
| --- | --- | --- | --- |
| Indianapolis Motor Speedway  | 3 laps | $1,000 | purchase |
Driving Program Cars and the Indianapolis 500
---

This car was entered in the 2002 Indianapolis 500 by Hollywood Mo Nunn Racing. Brazilian driver Felipe Giaffone qualified fourth at 230.236 mph and finished all 200 laps of the race to finish in third. During the race, this car led four different times for a total of 12 laps.
---

This car was entered in the 2000 Indianapolis 500 by A.J. Foyt Racing for Scottish driver Jeff Ward, who qualified sixth at 222.639 mph. Ward went on to complete all 200 laps and finish fourth.
The following year this car was entered by Galles Racing for the 2001 Indianapolis 500. French driver Didier Andre drove 406 laps during practice and qualified the car at 220.985 mph. Unfortunately, the car was bumped from the field on the final day of qualifying.
---

This car was entered in the 2001 Indianapolis 500 by Treadway-Hubbard Racing. Brazilian driver Raul Boesel qualified 31st at 221.879 mph, but was later replaced by fellow countryman Felipe Giaffone, which meant the car started 33rd for the race. Giaffone took the car to a 10th-place finish on race day, completing 199 of the 200 laps.
Treadway & Associates Racing then entered this car for the 2002 Indianapolis 500. American driver Rick Treadway, an Indianapolis native, qualified 17th at 228.039 mph. During the race, Treadway was involved in an accident on Lap 90 and finished 29th.
---

This car was one of two cars entered by Chip Ganassi Racing for Colombian driver Juan Pablo Montoya in the 2000 Indianapolis 500. Montoya drove 90 laps of practice, but did not attempt to qualify this car. His fastest lap in the car was 222.102 mph. Montoya later took the second Ganassi entry to victory lane after leading 167 of 200 laps in the race.
In 2001, this car was an Indy 500 entry by Galles Racing for American driver Casey Mears, who drove 129 practice laps with a quick lap of 219.731 mph. During practice, Mears spun exiting Turn 1 and hit the wall in the south short chute. He did not attempt a qualifying run in the car.